MarkPap® Test
Manual procedure for slide processing and diagnosis on the same location
MarkPap® Test is a trademark for the Cervical Acid Phosphatase-Papanicolaou (CAP-PAP) Test. (US Patent, 2000). When visualized with the MarkPap test, the CAP biomarker appears as a red granular deposit on Papanicolaou stained background of abnormal cells. The biomarker is exclusively present in abnormal cells serving as their locator. Normal epithelial cells are entirely negative. Please see the page Image Galleries for illustration. Details of the method, including criteria for screening and interpretation, are provided in the Labeling Insert of the MarkPap Research Kit.
The MarkPap® Test could be made available for research purposes by contacting BioSciCon for appropriate arrangements.
MarkPap® Digital Telecytopathology Service
Manual procedure for slide processing and diagnosis at distance
This is telemedicine web-based cytology service (with or without mobile addition) to facilitate health care providers to deliver high quality services to rural areas via connecting their Point-of-Care (POC) providers with experts. At POC, a technician is capturing digital images of suspect (biomarker highlighted) cells with the surrounding microscopic fields. Digital image files are subsequently forwarded to pathologists in the laboratories/hospitals, where the specimen is evaluated and the result provided within hours.
MarkPap Digital concept started in 2008, with individual components manufactured by GT-Vision, Hagerstown, Maryland), and it is fully developed as a MarkPap Digital Workstation (See Figure). The Workstation is a compound medical device comprising MarkPap biomarker-based cytology, a microscope digital imaging and IT based communication protocol for application of telecytopathology.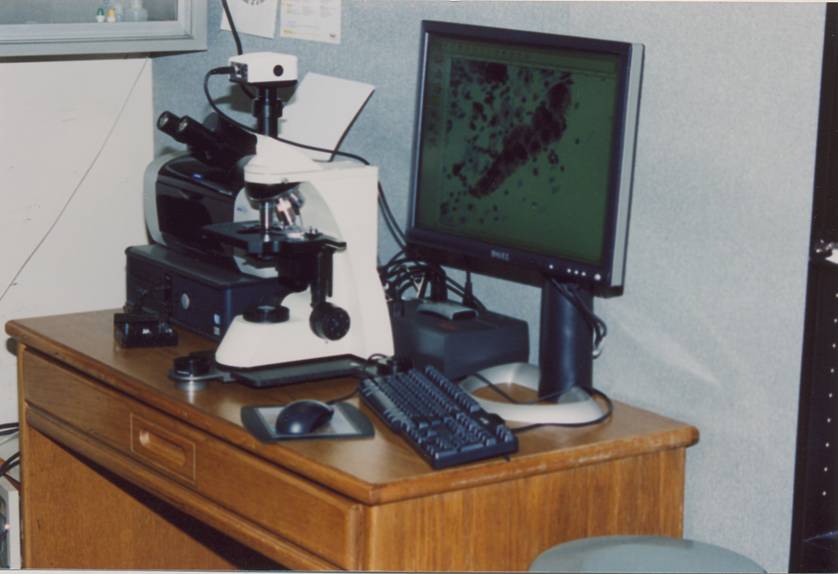 We are currently working on wireless capturing and transmitting microscopic images directly from the microscope at POC--Mobile Health Operating System™. The process is facilitated with a new MarkPap® Universal Adapter™.
The Workstation is now being incorporated as an Image Acquisition Unit of MarkPap® Digital Networking System™ for Telecytopathology--the future IT Telehealth Center- see further).
MarkPap® Telecytoptahology Service is particularly useful for mass screening in areas/countries without local infrastructure. MarkPap® Telecytopathology Service provides an opportunity for low-trained laboratory technician to process the gynecological specimens with MarkPap® Kit in a small remote laboratory or doctor's office, to look on the slide under the microscope searching for red-biomarker-positive cells, to capture them with a digital camera mounted on the microscope and to transmit images of the microscopic field of view via the Internet to the laboratories with qualified reviewers for evaluation. The result may be delivered electronically within hours, while a woman is still on the premises. The same principal was successfully tested for oral and anal cancer screening (39, 40, 47, 48)
Quality Control, Technical Support and Customer Service
BioSciCon core laboratory provides the evaluation of COMBO control slides, Customer Service and Technical Support. Tel: 301-610-9130, Fax: 301-610-7662 and E-mail: info@bioscicon.com. Technical Support regarding reagents, including SMDS is provided by the manufacturer Ricca Chemical Company, Arlington, TX. (http://www.riccachemical.com)
Please visit the Contact Us page.